Are you ready??
Before….the mural. Mountains at the top…
grass and road at the bottom. And Benji being a goofy boy. (obviously we had started moving furniture by the time I realized I needed a "before" picture. duh)
Primer is key.
Chair railing!!!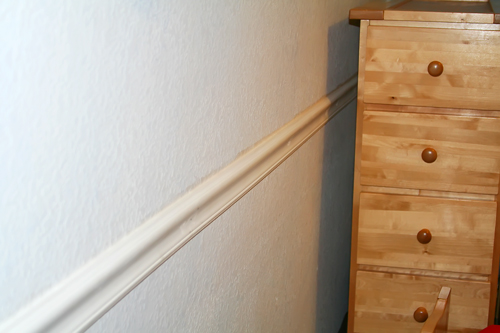 and over by the window…
We've got rounded corners in our house….
No problem for this guy…
The colors… (almost) Tiffany blue and dark chocolate.
Just another view… Wade was still working on the edging.
I love these colors together.
Putting the furniture back in.
Papa bear at work.
Uh, yeah. That dresser is not staying there. (it found a new home in my craft room…)
The curtains in the making.
We will pause here for a quick break. My friend T had a baby shower last Saturday, and I had been so wrapped up in the boys' room that I had not gotten her anything. I went out to JoAnn's on Friday morning at 9 and had made two baby blankets by 5pm. She's having boy/girl twins!! Hey T! I know you're reading. *wink* Hope you and the babies are hanging in there!
Close up of the boy blanket.
And the girl blanket.
And now…back to the room re-do. This bookcase was in my craft room closet. I thought it would look great in the boys' room…if we made a few minor changes…
Wade cutting *more* chair railing…
to put on the bookcase. Ya know…to dress it up a bit.
The curtains are done!!!
My favorite part…the peek-a-boo pleated valance.
Benji on Monday morning. He did not want to wake up. haha
The bookcase with a fresh coat of paint…
The room is basically finished! I'm going to get a few frames and put some art type things in their room, but all of the big projects are finished! This is a view from the door.
And now for a 360* tour… The boys dresser. The letters were made by the boys at Mary Kay's store in a kids' class that they took a while back. They also made the frames that are laying on the top. I'm going to get some pics of the boys printed and we'll hang those up on the small amount of wall between the closet and the doorway.
The bookcase. I think it looks so great after it's makeover!
We switched the orientation of the bunkbeds. The room feels so much bigger. That big empty wall there is just calling out for some frames… *wink*
Tyler likes his new room.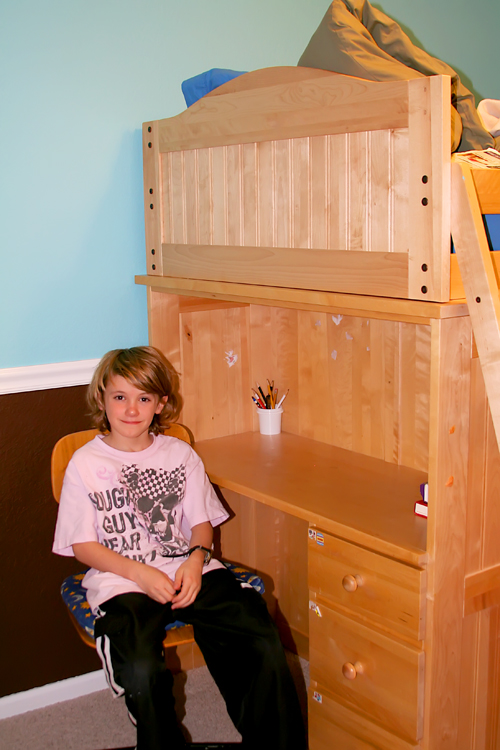 This is the view back towards the door. That short wall is where we'll put their frames.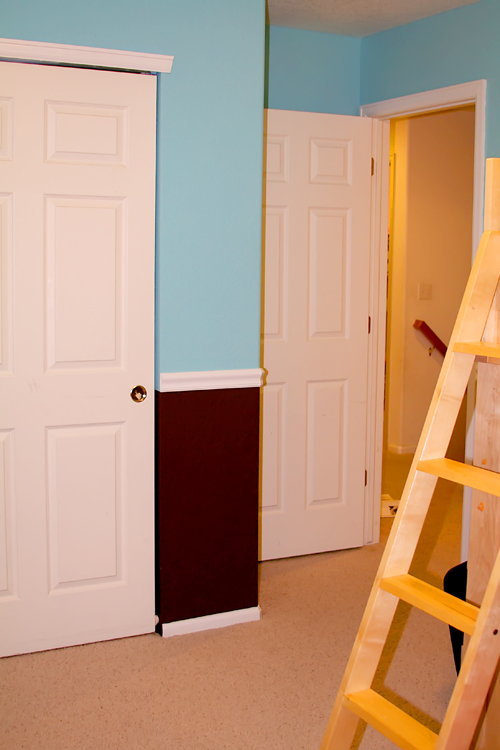 And we're back to the dresser.
And just because…a side by side comparison of before and after.
I'm just so tickled with how it turned out!! I'm going to have Wade do crown molding in the kitchen and living room next… *wink*