Yeah. I know it's almost over. And I know it's been too long since I've updated. I just wanted to wish all of my mom friends and family a happy day! I do have some pictures to show you! We have moved forward a little in our home improvement journey. (I thought I would do a garden post in honor of Mother's Day, but I then I realized that some of you would come after me if I didn't update on the renovations. haha!)
Here's the next step for our cabinets. Beadboard.
Wade got to use his circular saw. I had to convince him that it would be ok. *wink* He did a great job!
The cabinets…pre-beadboard.
Isn't this cool! At this moment, all of the cabinets have the beadboard attached. Wade has spackled the cracks around the edges and they are waiting in our living room for a quick primer coat for the spackle. We are also going to drill the holes for the hardware before we paint. I guess I better get going on that template…
Our next big project…the backsplash! Last Monday, I began prepping the area by sanding the walls.
I picked up the tile on Wednesday and just had to cut up the squares and see how they would look together. The blue mosaic was one set of tiles. The red was a different block of tiles. The red tiles are a little bigger than the blue ones, but since we were just doing one stripe of red, it worked.
Wade did a dry run and tacked up the tiles to see how they would fit.
Pretty tile all in a row…ready to be put on the wall!
Proof that men can and do read the instructions…
The first swipe of adhesive. (Wade was rolling his eyes at me at this point. I can't help it!!!)
First rows of tile.
Heading down the wall toward the fridge.
An overview of the kichen before Wade did all of the small tile cuts. I cannot wait to see the tile together with the cabinets and the new paint color….*sigh*
Look what we found at Lowe's!!!! I'm a little worried that it's too matchy-matchy with the cabinets, but I think it will be ok.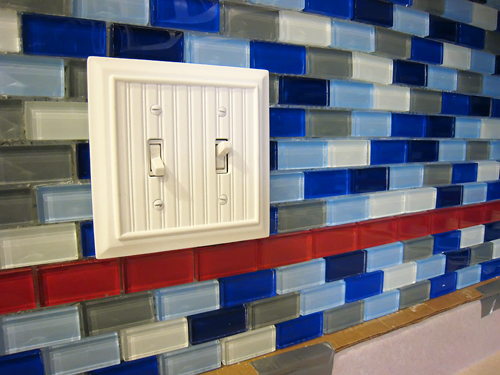 Check out those notched out cuts!!
A look at the edge and the corner.
Tomorrow night, we will be grouting. We are looking forward to crossing off one more project in this crazy journey!