(I hope you're not on dail-up…)
Of course, after we decide to do home improvement that requires taking things outside, mother nature decides to do this…
check out this icicle! Curvy!
that was a few weeks ago, but it's been cold, windy, rainy, and (currently) snowy for more days than not in the weeks since we decided to make our home improvements. So frustrating! We've been doing as much inside as we can. The cabinet bases are done! A little peek…
Finally the drawers and shelves can go back in the kitchen and out of my living room!
Our hardware choice for the kitchen. Love it!
Wade had to go out and get an extension pole to paint the stairwell…
wheeeeee!
The stair rail has been in my living room for over a week at this point. You can see the cabinets are there too. (the cabinets are *currently* all sanded and primed. Just waiting for the next step! GO AWAY SNOW!!!)
The new hall color and our banister all painted white.
and the stair rail back on the wall! yay!!
Wade and I thought we deserved a night out. So grateful that Brandi Carlile could come to Denver to entertain us. *wink* Here's Josh Neumann, getting the party started on his cello.
Brandi and Tim Hanseroth
Love this one!
Phil Hanseroth
Brandi came down on the floor to sing Dying Day (from her new, upcoming album). Literally 4 feet from where I was seated…
Love Phil playing the ukulele.
Love Tim sharing the mic with Brandi…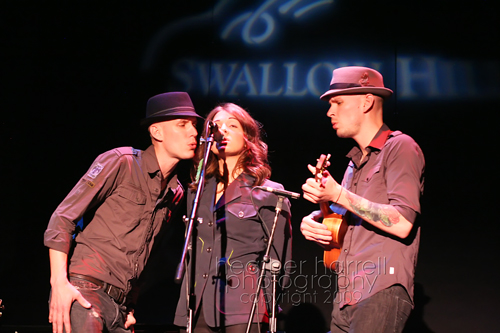 My absolute fave pic of the night. From the encore.
We are going to Ft. Collins tonight to see the band again tonight. I just can't get enough! I'll try to spare you all my gushing…unless I get any more amazing pics and/or something incredible happens. *wink*