Wade and I are still in negotiations about our new floor. We are down to two choices…
On the left…Jacobean Burnt Mocha (the first one that I found online and fell in love with). On the right…Imperial Palace(what we found at Lumber Liquidators and fell in love with). Both are bamboo. We are still researching the monetary details, so we are not sure which one will be more economical. We are going more on gut and emotion at this point. The picture above is the sample boards next to my couch. We are definitely keeping the red couch. We are not so sure that we are keeping our green walls. They may be changing to a slate/grey/blue color. (Still thinking about that one…would love to hear your thoughts on that too!) If you need reminding… This is the couch and the wall color…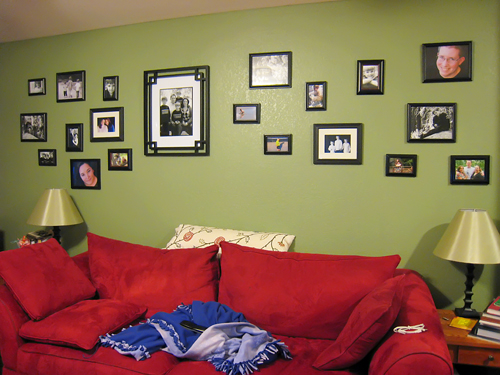 Here are the samples in the kitchen in the sunshine…
Here they are in the kitchen without direct sunshine…
(Please disregard the nicks and gouges in the samples. We've been abusing them to see what they can stand up to and what they might look like after a few years of abuse. *wink* ) So…what do you think? lighter? darker? green? blue? ugh! This is so hard! LOL!
In other news…if you have been waiting for your washcloth from donating to my Race for the Cure run…they are finally done! I should be getting those out to everyone soon. Check 'em out!
Ok. I'm off to watch some totally mindless TV. Top Chef reunion show and the season premiers of America's Next Top Model and Make Me a Supermodel. Yes. I have a college degree. Gotta go!