Ok. So technically it wasn't a cave. It was a mine shaft that turned into an underground waterfall with one well placed bunch of dynamite. Still underground. Still kind of creepy. I kept wondering if the rickety lighting was going to go out at any minute, but it didn't. There was this train outside the attraction. The boys were busy playing Indiana Jones and weren't crazy about posing, but they obliged me. haha
The waterfall in this picture is downhill from the mineshaft. They have a little path to a vantage point to take a picture with the waterfall in the background. I walked around and got this shot of Grandma and all of the Harrell guys.
Grandpa let Benji have his camera and this is Benji's shot from the same vantage point. LOL!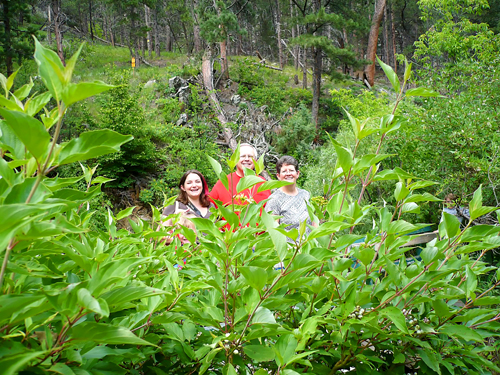 This is the cave…er…mineshaft. It was a self guided tour. The people who own/run the attraction want to keep it as natural as possible (and still be safe for people to visit), so there are little signs showing you all the important information about the mineshaft, and definitely no fancy-schmancy aluminum walkways. It was a little chilly inside, but not too bad.
As we got closer to the end of the walkway, the roaring of the falls got pretty loud. I just had to take a video of it for posterity. (You can hear Tyler trying to talk to me over the roar of water)
And here are the boys and Grandma and Grandpa posing in front of Thunderhead Falls.
I found it a little bit odd that this sign is on your way out. Nothing like reading about something as you are leaving. Oh yeah…and Avery saw me with the camera and knew just what to do. haha
Next stop…Circle B Chuckwagon dinner and a show! Luckily they had all this fun stuff for the boys to play on and with until dinner was served…
Tyler found the bull roping practice area. This is his first try at roping the "bull". Getting ready…
will he make it?????
He did it!!!! On his first throw! He was so excited!
Waiting very patiently for dinner….
But first…a gunfight! Here's the sheriff explaining that there is a biscuit thief among us…
The thief goes running through the crowd… *gasp*
The sheriff gathers all the kids and deputized them. And sent them running after the biscuit thief. It wasn't too long before they all came running back…
with the biscuit thief right behind them. But all ended well. The biscuits were returned, albeit a little pocket-fuzzy.
The food was "cowboy cuisine" and the music was "cowboy music" and I think the boys enjoyed themselves.
Happy family.
Coming soon… Day 8: Like Heaven…for boys.