I will have to write a review of my Chicago weekend later. I had THE BEST time! But I need some time to process and maybe take some pics of what I did and process some of the pics that I took. So, maybe tomorrow. In other news….. I'm waiting on a call from the nurse for Benji. He fell off of the bunkbeds yesterday and was "handling" it fine, and yesterday he was looking ok….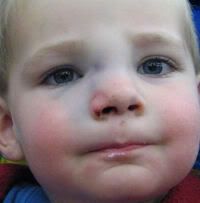 and now…..not so much.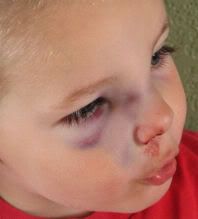 I just want to err on the side of caution. When the boys picked me up from the airport, I almost didn't recognize Benji! His face looks like a hockey player's! I really *hope* it's not broken. We'll have to see what the dr says…. Stay tuned.
**Update** We have an appointment at 3:20 today. I'll let you know how it goes.